We have an eclectic collection of photos for you to enjoy on this page.  We have no problem with you "borrowing" them for your own use or for non-commercial uses provided that you CREDIT the Walworth Historical Society as your source.  Others, please contact us for permission.
 
Janet Bassage (daughter of Howard and Hazel Pembroke Bassage)

Bertha VanHouter Pembroke

Charlie Pembroke often entertained people with his accordion or other musical instruments.

Left – Jacob & Cynthia Pembroke, Right – Jake Pembroke in later years.

The Pembroke Brothers baby photos.  Charles Pembroke on the left and Robert Pembroke on the right.

December 24, 1938 – The wedding of Charles Pembroke to Bertha VanHouter.  Best Man was Charles Hack and Matron of Honor was Dorothy Hack.

Four generations of the Pembroke Family c. 1943 (left to right) Abram Pembroke, Jacob C. Pembroke, Burton Pembroke, Charles Pembroke

This is a photo of Wesley George Ebert taken about 1915.  A native of Walworth, he served in World War I.
We are looking for more photos and other information about WW I veterans connected to our Town of Walworth, so if you have something to share, please contact us.  We'd love to scan your photos or other documents.
********************************************************************************************************************************************************************************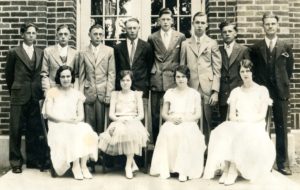 Taken in front of the new Walworth High School Building. Row 1 (L-R) Etta Marie Bristol, Melba Eugenia Tuttle, Mary Jane Bulk, Naomi Louise Newbury. Row 2 (L-R) John James Popp, Harvey Byron Hadden, Howard Adam Hadden, Floyd Stanley Petty, William Edward Hayler, Stuart Tiffany Oldrin, Henry William Massielye, William Carl Teeter.
Stuart Oldrin was Class President, Harvey Hadden was Class Secretary and Mary Jane Bulk was Class Treasurer.
***********************************************************
The following black and white photos were taken in 1907 by a railroad company for a proposed spur in the Walworth area to service the fruit drying houses.  As it turned out, this did not happen but these photos were found in a Westfield, Massachusetts attic, given to a relative (Electa Wilson) of Walworth, and they were donated in 1987 to Kay Scott who at the time was president of the Walworth Historical Society.  This was so lucky for our museum.  These photos were scanned with high resolution and we present some of them here for all to see.
 
George Baker apple dry house located in Lincoln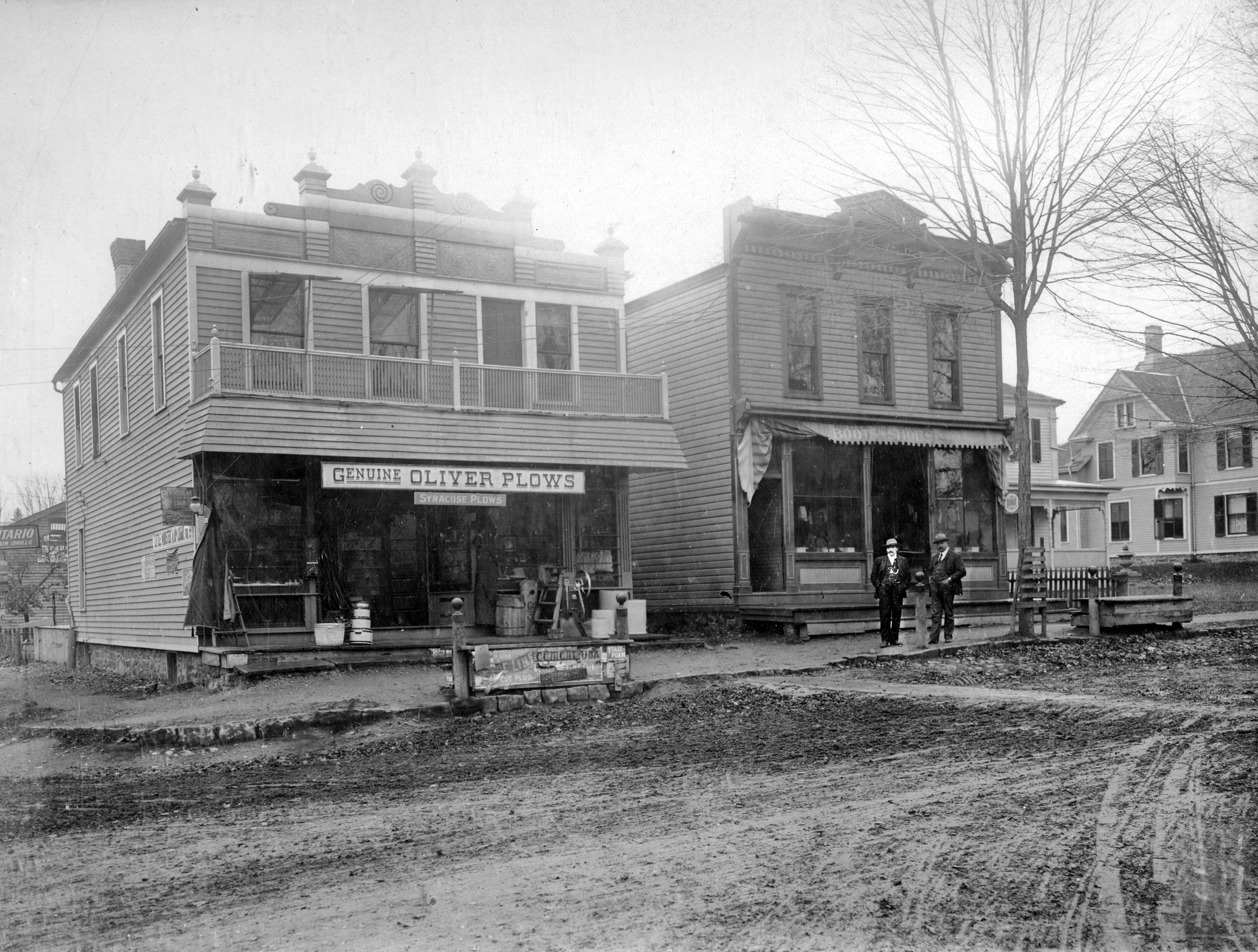 Southeast corner stores in Walworth.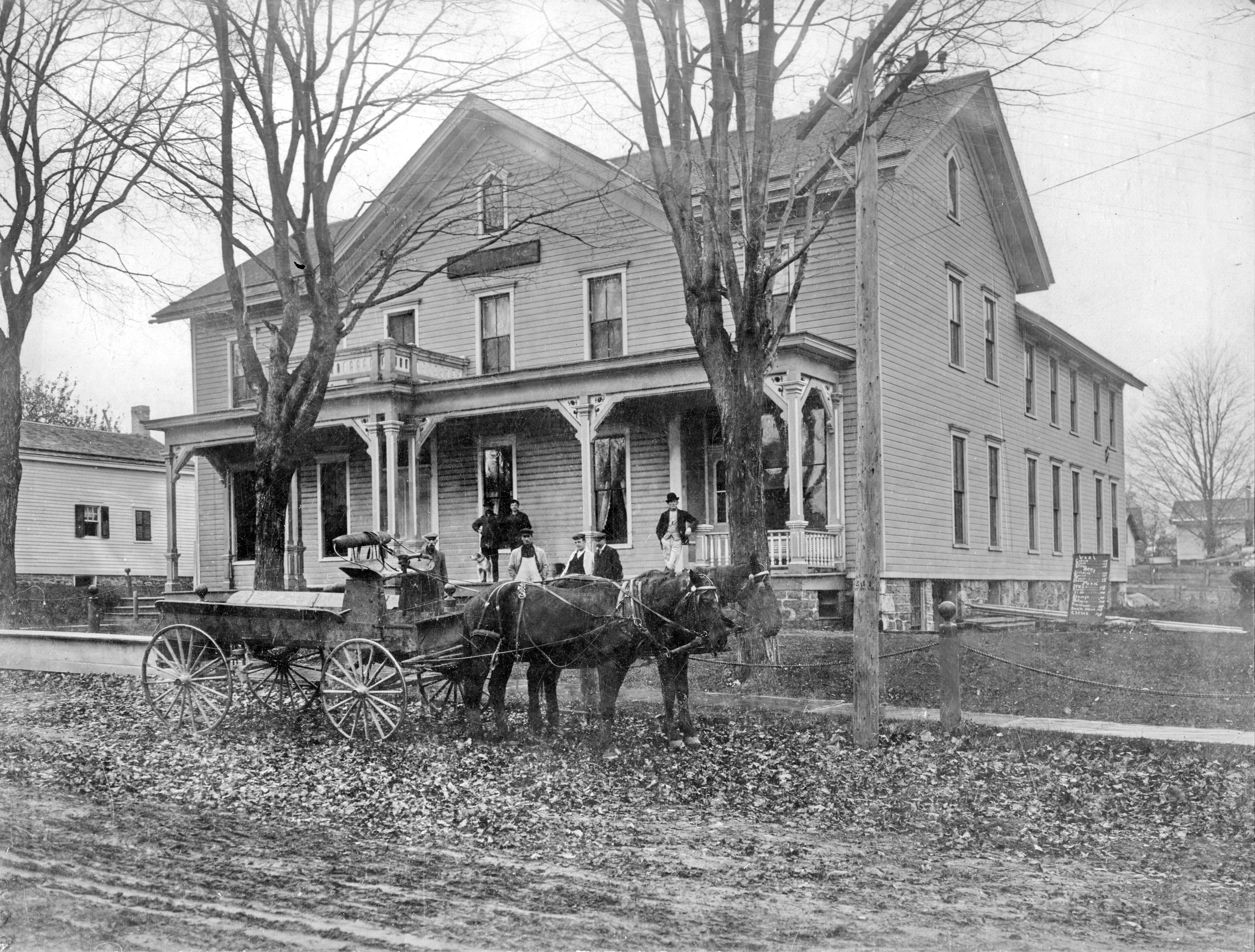 The Pacific Hotel on Main Street in Walworth.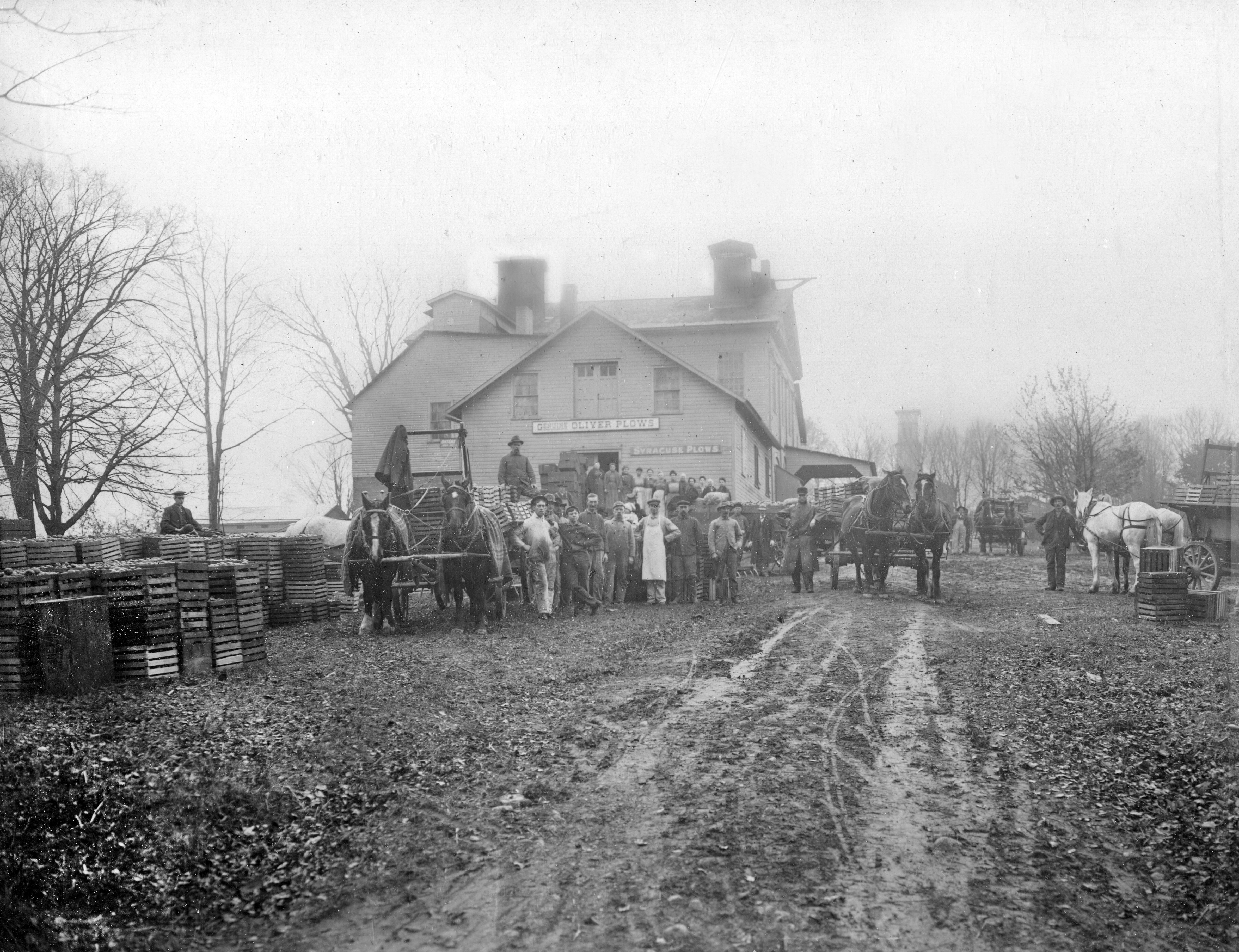 F. K. Engert fruit dry house in Walworth.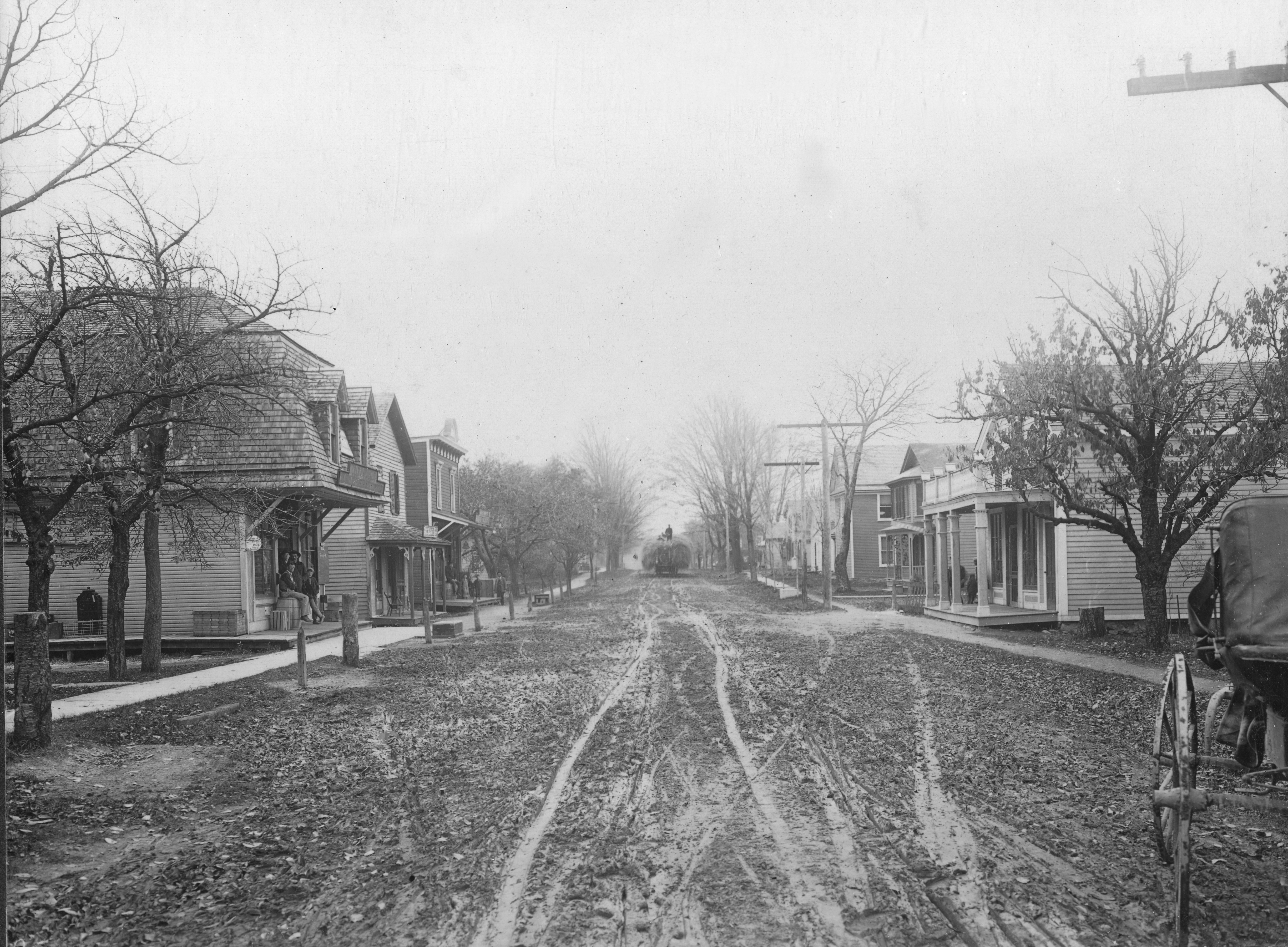 Main Street West Walworth looking south.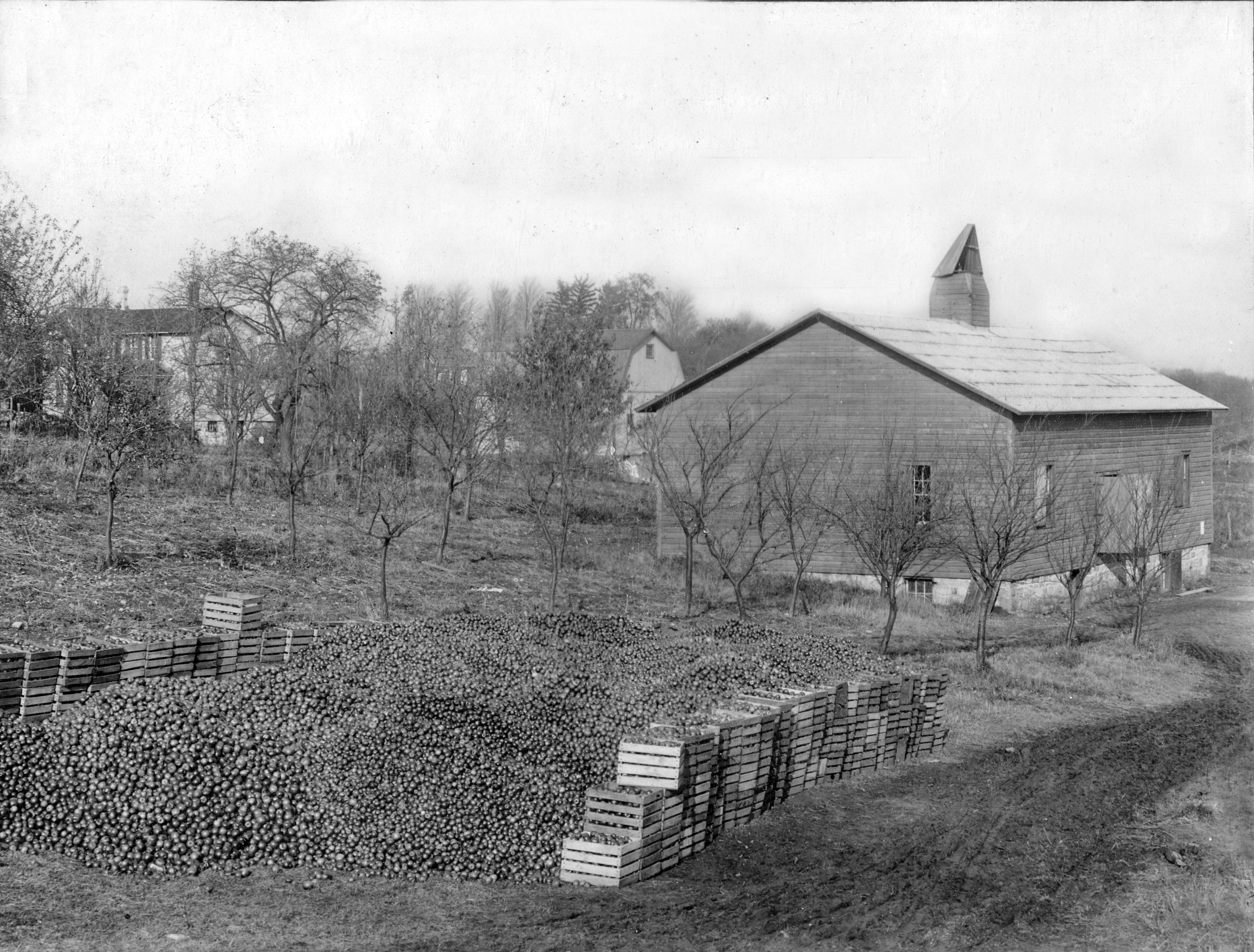 George Baker apple dry house in Lincoln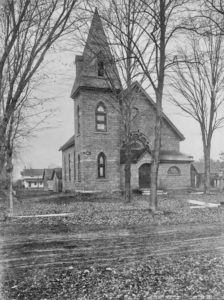 The Second Baptist Church of Walworth.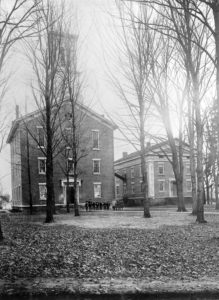 The original Walworth Academy.  It was torn down in 1930.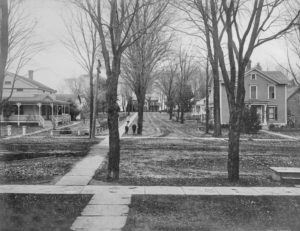 Academy Street looking east.  The home at far end was that of Theron Yeomans.  It burned in 2015.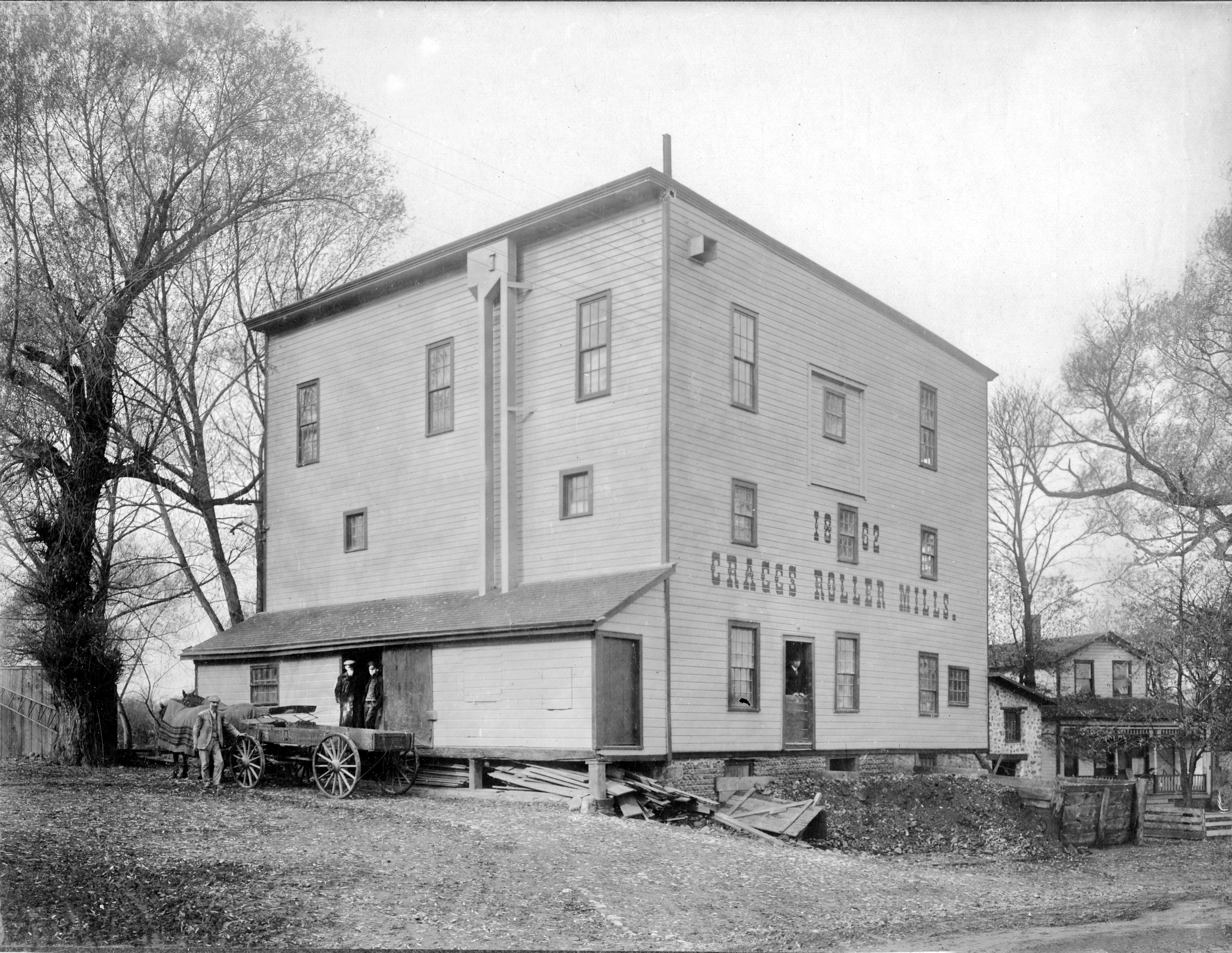 Craggs Roller Mill burned down circa 1930.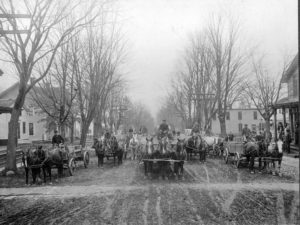 Main Street Walworth looking north.  The wagons all lined up for this photo to show the railroad people how many people in the area would benefit from the proposed railroad spur in the area.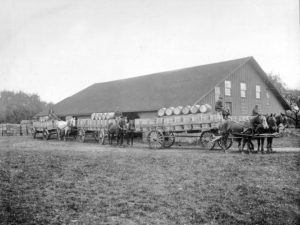 Apple dry house of G. R. Wignall in Walworth.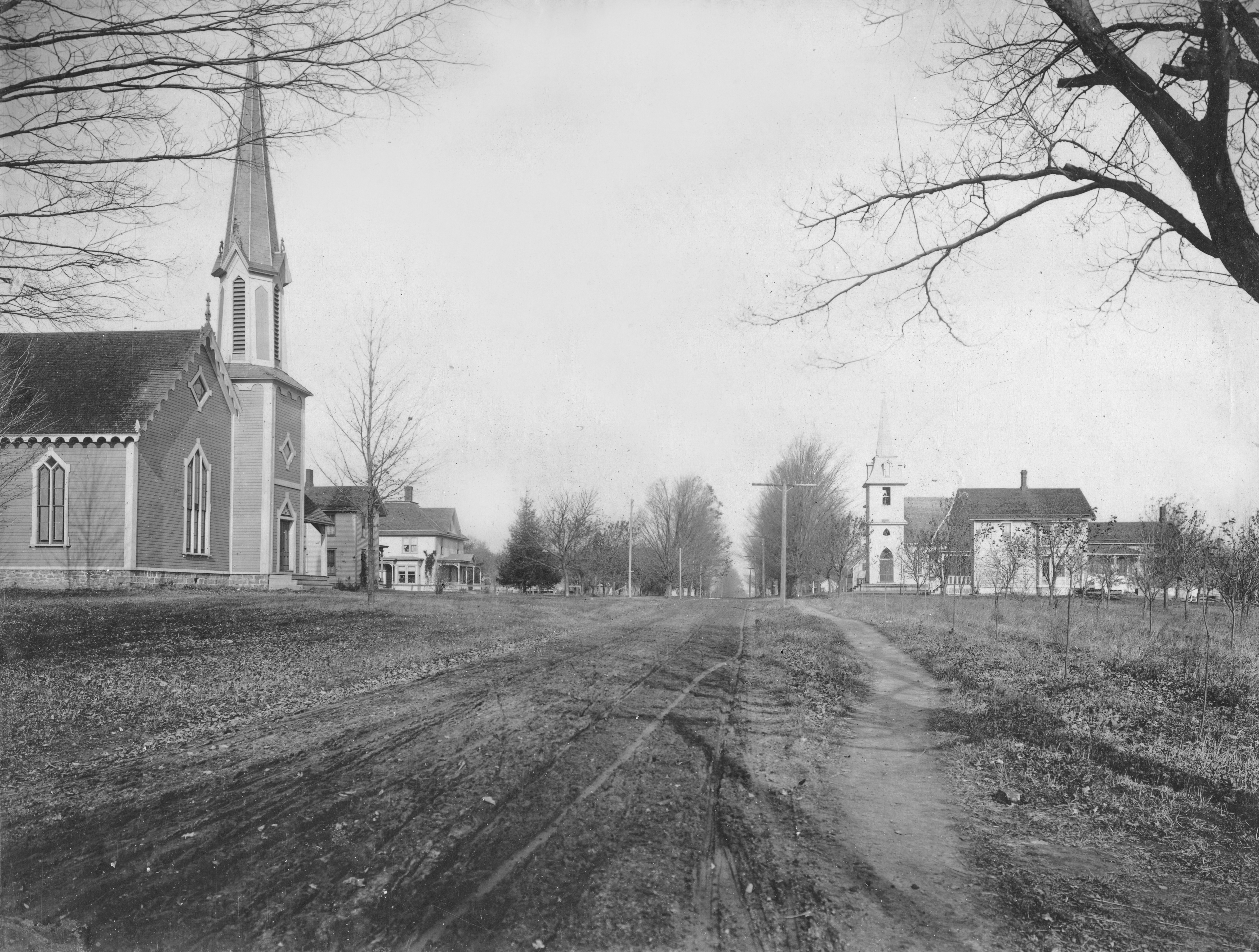 Lincoln Road in Lincoln looking north.  Methodist Church (later Lincoln Grange and now a private home) on the left and Baptist Church on the right.
*******************************************************************
Long time Walworth Residents
 
Four women singers in one of the minstrel shows of the mid-1950's in Walworth.
Left to right:  Ruth VanHaneghem Reybrouck, Bertha VanHouter Pembroke, Katie Luke Youngman, Joyce Goebert VanHaneghem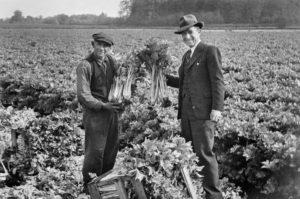 Walworth area celery growers.  This photo was taken in 1944.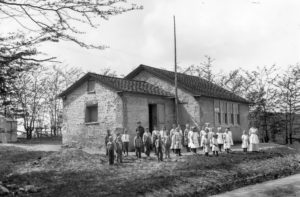 Alderman Road (Stop 28) school. (Not in the Town of Walworth)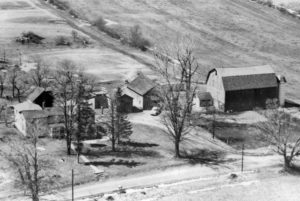 The Amsler family farm.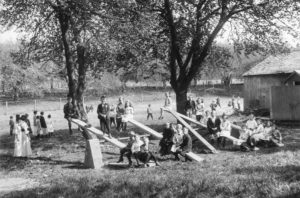 Behind the Methodist Church in West Walworth.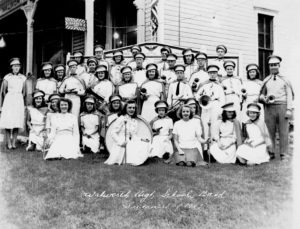 Walworth High School Band in the summer of 1947.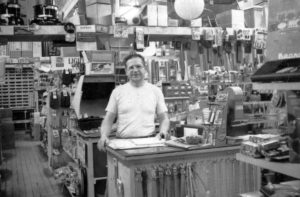 Gordon Youngman in his store on Main Street Walworth.  Photo was taken in 1977.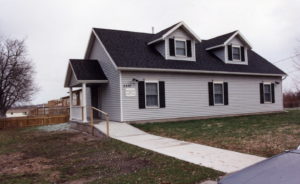 The Walworth Historical Society museum soon after construction.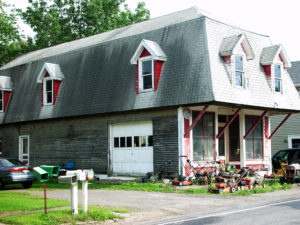 Stalker's Store on Main Street in West Walworth.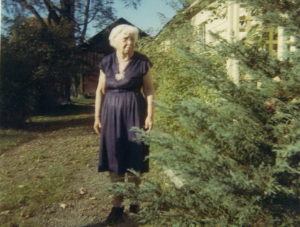 Bessie Seeley 85 years old in 1966.  The current library in Walworth is named after her.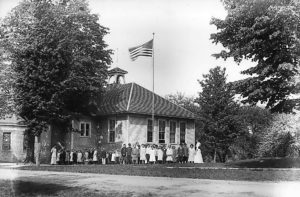 West Walworth School #3.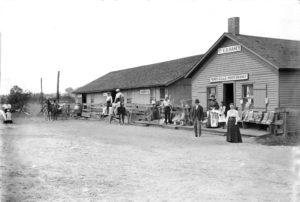 Walworth Station used to be west of  Walworth-Palmyra Road about 3 miles south of the hamlet of Walworth (in the Town of Macedon)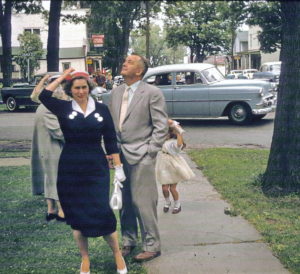 Joe and Lorraine Finley.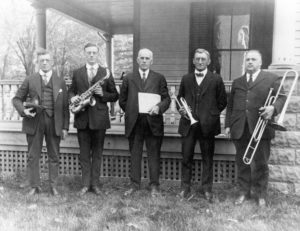 The Walworth Fried Cake Band.  Rumor had it that these men would play at any parade and all they wanted to be paid was to be fed fried cakes.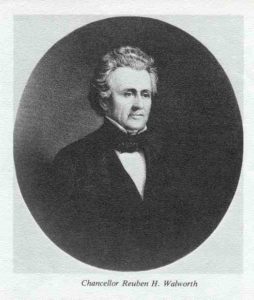 Chancellor Reuben H. Walworth after whom our town was named.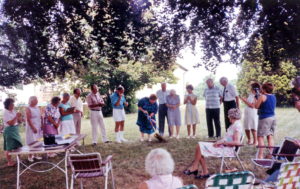 Ground-breaking day for our museum.  WHS President Kay Scott does the honors with the shovel.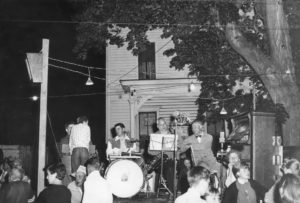 Scene from the 1956 Walworth Street Dance.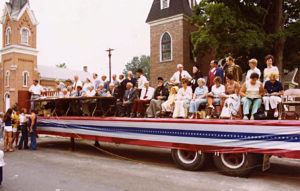 The judging stand from the 1976 Walworth Parade.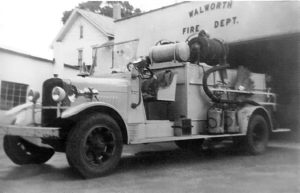 An early Walworth Fire Department truck.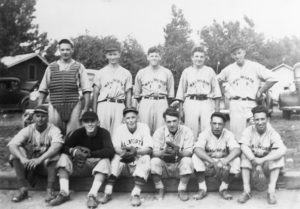 A team photo from one of the early Walworth baseball teams.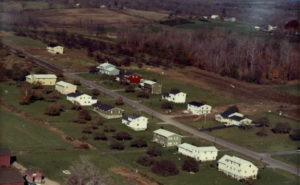 The first homes built on Orchard Street in Walworth.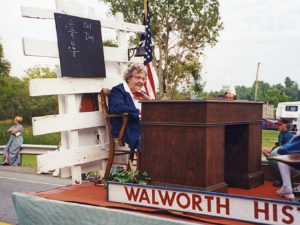 Walworth Historical Society member and Wayne Central School teacher Hazel Bassage poses on one of the WHS parade floats.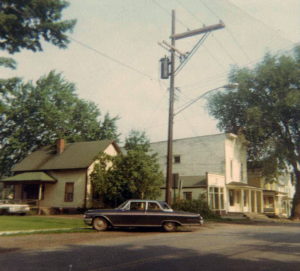 A view of the town of Walworth in 1950.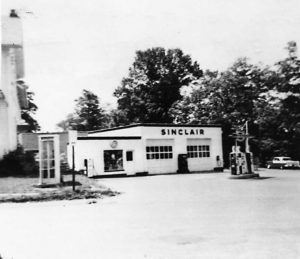 The Sinclair gas station on the corner in the town of Walworth in 1947.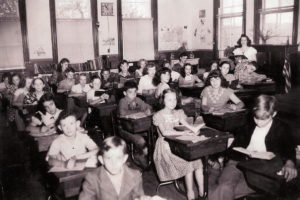 West Walworth School #3 inside view in 1947.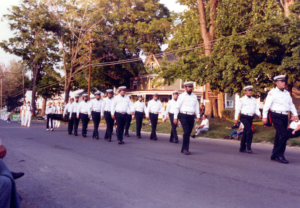 The Walworth Fire Department marching in a parade in the mid 1980's.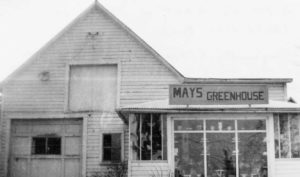 Elton May's greenhouse in Walworth.