Mike Harland will speak on WWI based on diaries. 9/18/2017 at 7:30 PM – WHS
Please save Monday, September 18, 2017 for a program about WWI presented by Mike Harland from Williamson.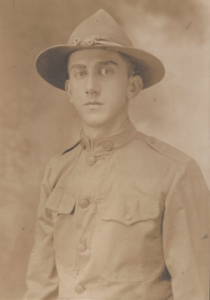 Raymond DeHond, WWI soldier from Williamson, NY
April 6, 1917 – 100 years ago – United States joins WWI.  Raymond DeHond was one of 62 boys from Wayne County and the surrounding area that got on a troop train from Palmyra on May 25, 1918 to serve in the military during WWI. Ray kept a diary of his experience in the war and had many photographs.  Ray's grandson, Michael Harland, found Ray's diary a couple of years ago and transcribed the diary into a document which includes Ray's photographs and Michael's research.  Michael will give a slide presentation which will tell Ray's experience (in photographs); leaving Williamson, basic training at Camp Dix, transit through England, stationed in France, occupation of Germany, and returning home.  Come and enjoy some interesting photographs and stories of a local boy named Ray DeHond.  Clyde Kuttruff of West Walworth left on the same troop train as Ray.
The Walworth Historical Society is beginning to dig out SOME information about some of the WWI soldiers who were either born in Walworth or who lived here at various times during their life.  If YOU have information about anyone who fits that description, please share what you can with us.